With summer in full swing, it's important to remember to stay hydrated! But with so much advice being handed out left and right about hydration, it's hard to know how much— or what— to drink. Here are some important things to keep in mind as you keep cool this summer:
1. Water is Key
Water takes up 60% of our body weight, and it is an essential nutrient to keep our body functioning. Water is lost everyday through normal activities, so it is important to fully replenish it. So how much? The Institute of Medicine recommends about 13 cups a day for men and about 9 cups a day for women, but the general advice of "eight cups a day," is close enough to be safe for most people.
2. Physical Activity Means More Fluids
Everyone knows that as you exercise, you perspire. But did you know that intense  prolonged exercise, especially in the heat, can lead to up to 2.5. liters (about 11 cups) of fluid being lost through perspiration? Factors such as humidity, temperature, and clothing or protective gear can increase this rate as well. This means it is even more important for people engaging in physical activity to stay hydrated! Everyone has different needs, but a general rule of thumb for how much and when to drink for athletes is as follows:
5-7 milliliters fluid per kilogram body weight 4 hours before exercise

3-5 milliliters fluid per kilogram body weight 2 hours prior to exercise

150-350 milliliters fluid every 15-20 minutes throughout exercise

1.5 liters fluid per kilogram of body weight lost (of water weight) after exercise
3. There's More Than Water
Water is ultimately the most recommended fluid to stay hydrated, but it is by no means the only option. If you find yourself struggling to drink enough water, try some healthy alternatives such as coconut or sparkling water. You can even add some fruit juice or fresh lemon or lime to sparkling water for a flavorful treat. Athletes may find consuming sports drinks to replenish electrolyte and carbohydrate levels to be beneficial if they exercise intensely for over an hour, but make sure to be aware of the sugar content. You can also gain fluids through the food you eat— mainly fruits and vegetables. Try some watermelon, grapefruit, cucumbers or even avocado to increase your fluid intake, and enjoy a delicious, healthy snack! Broth or chilled soups can also be counted towards your total fluid intake, and you could try some iced ginger, fruit or other flavored tea as refreshing, summery drink.
Hope those tips help you stay hydrated this summer. Check out the recipes below for some more hydration inspiration! 
Banana-Pineapple Smoothie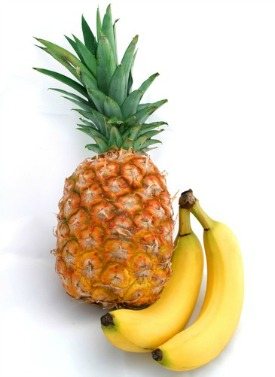 Ingredients
Directions:
Freeze carton of yogurt and allow thawing slightly prior to blending smoothie.

Put all ingredients into blender.

Blend until smoothie consistency is reached! If drink is too thick, add orange juice.
Yield: 2 serving
Peach Smoothie
Ingredients:

2 medium peeled pitted and sliced fresh peaches or frozen equivalent

1 cup milk or yogurt (plain)

¼ cup frozen orange juice concentrate

4 drops Stevia sweetener

1 tsp  vanilla

½ tsp cinnamon

1 cup ice cubes (1½ w/ yogurt)
Directions:
In blender container combine remaining peaches, milk, juice concentrate, sugar, and vanilla.

Cover and blend until smooth.

Gradually add ice cubes through hole in blender lid, blending until smooth after each addition.  
Yield: 2 servings
Strawberry Cucumber Water
Ingredients:
Directions:
Place the ingredients in a pitcher and add 2 quarts of water

Refrigerate for 2-4 hours to allow time to infuse

Before serving, stir well and discard the solids
References:
[Photograph]. Retrieved from http://www.osteobiflex.com/-/media/osteobiflex/home/articles/summer-joint-nutrition-and-hydration/15_ob_article_hydration.jpg?iar=0&mh=485&w=860&mw=860&h=451&la=en&hash=85954B5BAA5559054324182B21301ABBA512DCA2
[Photograph]. Retrieved from https://www.healthysmoothiehq.com/wp-content/uploads/2013/06/Pineapple-Banana-Smoothie-
Dunford, M., & Doyle, J. A. (2015). Nutrition for sport and exercise. Stamford, CT: Cengage Learning.
Food Network Kitchens. (n.d.). Strawberry-Cucumber Water Recipe. Retrieved from http://www.foodnetwork.com/recipes/food-network-kitchen/strawberry-cucumber-water-3362509
Mayo Clinic. (2014, September 5). Water: How much should you drink every day? Retrieved from http://www.mayoclinic.org/healthy-lifestyle/nutrition-and-healthy-eating/in-depth/water/art-20044256
Post by Janelle Tarmas, Healthy Directions For You Intern