Top 10 Tips For Making Healthier Choices When Eating Out
Look for lower-calorie offerings.
Some restaurants offer a "lighter" section of their menu. This can be helpful to choose smaller portion entrées. Just be careful and read nutritional facts when possible. Just because the meal is in that section doesn't mean it's balanced.
Have a plan. 
Look online at menus before you go to the restaurant. Make a plan for what you will order by looking at all the options and nutritional information. Get ready for what you will ask for from your waiter. If you know what you are going to order ahead of time, especially if you have menu substitutions, it will take a lot of stress out of the ordering process.
Don't be afraid of asking for substitutions. 
If you see an item you want to order but it has a side or sauce you know you don't want then ask for a substitution. Ask for steamed vegetables as a side instead of the starch option, ask for avocado instead of mayonnaise, or ask for oil and vinegar instead of dressing. Substituting can turn a plate you want to avoid into a nutritious and balanced meal.
When going out with friends ask if you can pick the restaurant. 
Some restaurants have more healthy options. If you can pick the restaurant then you can have more control over what choices you have.
Eat a light snack and drink plenty of water before you go. 
Eat a snack of nuts or cheese and drink extra water before you go. This will ensure you are not starving when you arrive at the restaurant and help to prevent overeating.
Always ask for dressing and sauces on the side. 
Sauces and dressings at restaurants can be sugar laden and calorie rich. Choosing to opt for a side can help you control how much you use.
Ask for a to-go box when you get your food–or share an entree. 
Portions at restaurants can be large enough for two or more meals. If you know you will not be able to stop halfway through, ask your serve for a to-go box when you receive your meal. Transfer half of your food and save it for lunch the next day. This is also a great way to stretch your budget and get 2 meals for the price of one.
Don't drink your calories. 
Ask about herbal teas or mineral water even if they're not on the menu. They can be a great substitution for other drinks on the menu that can be high in sugar and calories. When in doubt stick to what is natural in our bodies; water.
Get more information from your server. 
Don't be afraid to ask your server about how a particular meal is prepared or what ingredients they contain. Often times there's more that goes into a meal than what is written on the menu.
Although very tempting, try to eat out only occasionally. 
Even though eating out is very tempting, it is best if it is seen as a treat, not a routine. It can be a part of a healthy lifestyle if it is seldom and it isn't seen as an opportunity to abandon all your healthy eating rules.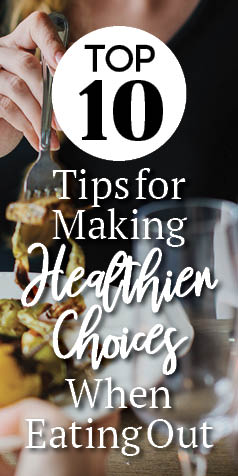 Ref:
https://www.heart.org/HEARTORG/HealthyLiving/HealthyEating/DiningOut/Dining-Out_UCM_304183_SubHomePage.jsp
Eating on the Go PDF, ©PLNW Inc. 2013 & Beyond